Walls of Protection

A personal testimony of her journey of building walls of protection as a teenager.  These walls were the beginning of a battle with drug and alcohol addictions. Hear a touching true life story of a life from darkness to light. 

Quilting the Pieces of Our Lives

Learn how everyday stories in our lives become 'pieces' of our unique life, stories sewn into a beautiful quilt of life. View a collection of historical and unique quilts as part of this time together.
When you get stuck in the mud of life it feels like you can't get out.  Learn how to get out and create practical skills that will help you live out of the muck of life.

Be inspired and learn how to keep up the battle every single day in fight the good fight.  Sue shares practical skills and shows you how to build your own tool kit.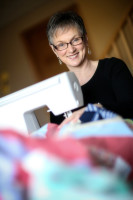 Carried by Faith

Before surviving an incredibly dangerous motorcycle accident in 1996 at the Sturgis Bike Rally in South Dakota, Sue's life was ordinary.  Hear about her remarkable story of interesting escapades on the family farm, through the dark years of substance abuse, all the way to the amazing years of miracle stories that lead to the realization of a true, living and loving God. She captivates your attention with her unique ability to share her life and how she was set free from a lifestyle of darkness into a Life Worth Living! 
Friends to the END

Learn six ways to be a friend to the END. Focusing on how to be a GOOD friend that can keep the friendship alive until the END.